Podcast: Play in new window | Download | Embed
Subscribe: RSS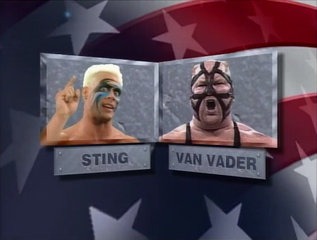 Classic Wrestling Memories is back for 2018 with a special look at one of Seth's favorite wrestling events, WCW Great American Bash 1992. The event was centered around a tournament to crown new NWA Tag Team Champions, and a WCW World Title match between Champion Sting, and Challenger Big Van Vader. Here is the card. Notice all the WWE Hall Of Famers in the lineup.
Flyin' Brian Pillman & Jushin Thunder Liger vs. Ricky "The Dragon" Steamboat & Nikita Koloff
The Fabulous Freebirds (Michael P.S. Hayes & Jimmy Jam Garvin) vs. Hiroshi Hase & Shinya Hashimoto
Barry Windham & Dustin Rhodes vs. Ravishing Rick Rude & Stunning Steve Austin
WCW World Title: Sting vs. Big Van Vader
In the first segment, Seth and Crazy Train give the set-up for the event and the state of World Championship Wrestling at the time. This is a must-hear discussion for WCW and early 90s wrestling fans alike.
What do you want to hear Classic Wrestling Memories discuss? Sound off in the comments below. We want to hear from YOU!