Podcast: Play in new window | Download | Embed
Subscribe: RSS
There are wrestlers, and there are champions. Then there are champions, and then there are Legends. Finally, there are Legends, and then there are people like "The Destroyer" Dick Beyer.
"They say never meet your idols because you'll end up being disappointed. Whoever said that never met Dick Beyer." – Mike Tenay
Early Life
Dick Beyer was born July 11th, 1930 in Buffalo New York. He attended college at Syracuse University, where he was a varsity football player, as well as a wrestler. He co-captained the Syracuse Orange football team in 1952 and played in the Orange Bowl that year. Also in that same year, Beyer made the Eastern Regional Second Team. Those accomplishments helped with Syracuse University's Athlete Of The Year. Beyer graduated with a degree in education and spent years as a teacher. Beyer coached several sports, including swimming and football. Fellow Syracuse Orangeman Jim Brown was on a team that Beyer coached during this time. Some call Jim Brown the greatest running back in history.
Breaking Into Wrestling
Beyer began what would become a 40 year pro wrestling career in 1954. He wrestled as an athletic babyface, who often would wear a Syracuse jacket to the ring. Rookie Of The Year in The readers of Wrestling Life magazine voted him Rookie Of The Year In 1955.
One of the first territories he worked was Hawaii, where he met and helped train Harry Fujiwara. There he got noticed by WWE Hall Of Famer Freddie Blassie, who was a top heel in the Worldwide Wrestling Associates in California. Blassie contacted the WWA office and told them he saw greatest babyface in the country. Blassie returned to Hawaii for a match against Neff Maivia, and Beyer was in his corner for that match. After the match, Blassie contacted California again, and told them he just saw the best heel in the country.
As if that wasn't enough, Don Owen was at the match as well. Owen was the promoter for Pacific Northwest Wrestling in Portland Oregon. Owen offered Beyer a job when his time in Hawaii was done. A little while later, WWA promoter Jules Strongbow contacted Dick and also offered him a job in California. This put him in an awkward spot, as he had previously agreed to work for Owen and didn't want to back down from his word. In the end, Beyer agreed to work in California, and promised Owen he would come to Portland when his time in WWA was done.
Donning The Mask
Beyer came to Los Angeles to work for WWA. Strongbow told him that he would be a masked heel under the name "Destroyer". Beyer hated the idea and refused to do it, believing that his status as a sports star got him over and he didn't want to use a different gimmick. Whether it was Strongbow, Blassie, or some mixture of them and other promoters that convinced him, Beyer eventually agreed to be The Destroyer.
On his first night (4/27/62) as The Destroyer, Beyer wrestled Seymour Koenig in San Bernadino California. According to Meltzer, there were 773 fans in attendance. Beyer found the mask to be uncomfortable, and difficult to work with as it restricted his vision and head movement. After the match, Beyer said he would never wear a mask again.
Ox Anderson, another wrestler Beyer knew from Texas, gave him a more proper wrestling mask. This one was much more comfortable and did no restrict his movement. Beyer and Strongbow agreed that he would continue wrestling as The Destroyer for four weeks. After that, he would be free to do what he wanted.
Rise Of The Destroyer
Over the next few weeks, The Destroyer wrestled several matches, with one of his notable opponents being a young Johnny Walker. By the end of May, the attendance had skyrocketed, and Beyer was making more money than he ever had before in wrestling. He then told Strongbow that we would continue wearing the mask.
As The Destroyer, Beyer would sometimes refuse to wrestle until he was introduced as The Sensational Intelligent Destroyer. He.claimed that nobody could escape the Figure Four, and that nobody could unmask him. If somebody managed to get out of the hold, Destroyer would claim that he hadn't fully applied it yet/ If somebody unmasked him, he would be wearing a second mask underneath. In just under eight weeks, attendance had risen from under 700 to over 10,000, The Destroyer had become so popular that masks and T-Shirts were sold to fans. It was around this time that Mike Tenay, as a young boy, saw Dick Beyer for the first time. To this day, Tenay calls The Destroyer his favorite wrestler.
Japan and Superstardom
Blassie defeated top babyface Rikidozan on July 25th, 1962 to win his second WWA Title. In real life, this was done because Rikidozan was traveling back to Japan and needed to drop the belt. A mere two days later, Destroyer submitted Blassie with a Figure Four to win the title. He would continue to hold the title for ten months and wrestle the likes of Dick Hutton, Lou Thesz, and Giant Baba. Even the returning Rikidozan was unable to defeat The Destroyer. Blassie finally won the title back in May of 1963.
The next few years were exceptionally big for Destroyer. His success in California and Hawaii spread around the world. The Destroyer traveled to Japan to wrestle. Despite losing the title to Blassie, he was still billed as WWA Champion. He faced names like Giant Baba and Rikidozan, who undoubtedly were the most popular wrestlers in Japan at the time. The Rikidozan match was watched by 70 million people. To this day it is one of the most-watched broadcasts of all time, let alone wrestling matches. He became a true megastar. So much so that the word "Destroyer" got incorporated into the Japanese language.
Pacific Northwest
By Summer 1963, Strongbow believed the time had come for The Destroyer to be unmasked. Beyer, on the other hand, was now against unmasking since the gimmick was still drawing well. Still, Strongbow booked Destroyer against Herculez Cortez in a Lumberjack Match in August of 1963. Rather than follow through with the finish, Beyer faked an injury when he was thrown to the outside, and when the other wrestlers stopped to see if he was OK, he sprinted to the back and rode off in a getaway car.
Through a previous phone call, Beyer arranged to finally fulfill his promise to work for Don Owen in Portland. He held several Pacific Northwest titles and faced the likes of Mad Dog Vachon and Danny Hodge. A few months later, Strongbow contacted Beyer and asked him to return to work in Los Angeles, and that he was wrong to suggest losing the mask.
Tragedy Strikes
However, November of 1963 brought very bad fortune. Destroyer faced Rikidozan in a pair of high profiles matches while on another tour of Japan, . Riki had asked Beyer to stay for a day and join him for some parties. Beyer refused and boarded a plane for home.
By the time Beyer made it back to his home, he was notified that Rikidozan had been stabbed in a nightclub the previous evening. Beyer took this very hard, because he knew Riki wanted him to stay. One week later, Riki passed away from his injuries.
Some time later, Strongbow called Beyer to reconcile, and apologized for wanting to unmask him. The Destroyer returned to California and had another run with the WWA Title.
Dr. X
After the superstar treatment in California and Japan, the next stage in Dick Beyer's career was an unexpected one. Beyer was approached by Verne Gagne, owner and promoter of The AWA (American Wrestling Association). Gagne offered Beyer a top heel run in the territory, but with a catch: He wouldn't be The Destroyer. Gagne believed everybody knew The Destroyer was Dick Beyer, even though virtually no fan did. Still, Gagne billed Beyer as "Dr. X" instead of The Destroyer, with the belief that he'd be seen as a different person. To his credit, Beyer furthered that gimmick by switching to a brawling based stye as Dr. X, instead of the scientific based style of The Destroyer.
In The AWA, Dr. X feuded with top babyfaces Might Igor, Bruiser, Crusher, and others. He even beat Gagne for the AWA Title in 1968. Wrestling magazines had ads for Dr. X masks and T-shirts. Perhaps you saw one of the infamous pictures of Deborah Harry of Blondie sporting a Dr. X shirt in the 70s.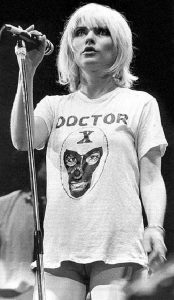 Unmasking and Semi-Retirement
By the time the 1970s Dick Beyer/The Destroyer/Dr. X had achieved all the success that could be expected. He had won three of the top five world titles (AWA, WWA, and IWA), and the remaining two (NWA and WWWF) couldn't be won by masked men. Though Blue Demon Jr. would break that NWA rule in the early 2000s.
Dr. X got unmasked after losing a match to Blackjack Lanza in the 1970s. "Dr. X" revealed his name to be Bruce Marshall. Of course that was a pseudonym since Dr. X was supposed to be a different person than The Destroyer anyway.
Beyer dedicated the next year touring the world with his family. He used his name as a wrestler to craft a custom championship belt that he would defend in other countries. He took his family to Mexico, Japan, Australia, Europe, etc…
Return To Teaching and Retirement
Beyer would spend the rest of his life mainly as a teacher and sports coach. He still wrestled on occasions going to the 1990s. He also became a regular at the Cauliflower Alley Club. It became an annual tradition where Mike Tenay would address the gathering, and state how much of a privilege it was to have the greatest masked wrestler in the world. Destroyer would start to stand and act proud, only to scowl when Tenay would say "…and Mil Mascaras will be joining us shortly"