Podcast: Play in new window | Download | Embed
Subscribe: RSS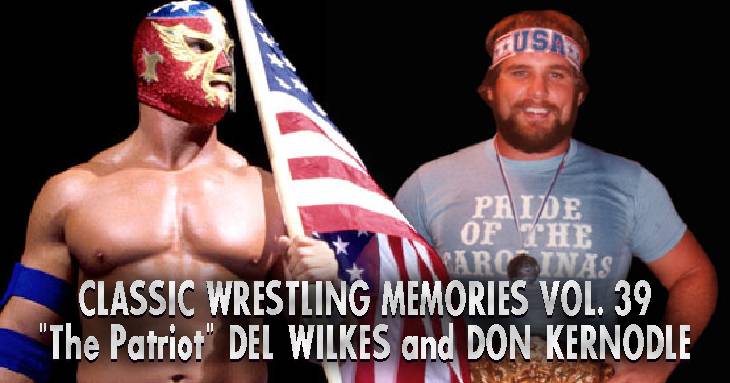 It's a double-shot of tributes on this volume of CWM. Today, we talk about two men who had similarities but also had very different careers.
1:45 – Dark Side of the Ring Thoughts
Train gives his thoughts on the new season of Dark Side of the Ring, which recently aired its famous "Plane Ride From Hell" episode. He also looks forward to the episodes on Chris Kanyon and Luna Vachon because he knew both of those people.
15:00 – Don Kernodle (1950-2021)
Don Kernodle, a North Carolina native, was probably best known for teaming with Sgt. Slaughter in the early 1980s. The story goes that he began wrestling professionally after he accepted a challenge by Bob Roop for a legitimate match. Roop always dominated these challenges and would beat his opponents in seconds. While Roop still won the match, it took him eight minutes to do so. Kernodle was still offered training by Gene and Ole Anderson.
He spent some time as the traveling partner of Ric Flair, who was still a rising star at the time.
Kernodle first made his name as part of Sgt. Slaughter's Cobra Corps stable alongside Jim Nelson (a pre-WWF Boris Zhukoff). The duo won the NWA Mid-Atlantic tag team championship and feuded with the likes of Porkchop Cash, King Parsons, and Jay Youngblood. After Slaughter and Kernodle turned on Nelson, they went on to win the NWA World tag titles in a fictional tournament. They claimed to have beaten Giant Baba and Antonio Inoki in the finals, which of course is a ludicrous claim. and feuded with Rick Steamboat and Jay Youngblood over them. That feud ended with a famous steel cage match in 1983.
He did compete for The World Wrestling Federation in 1983 as well. He mainly won enhancement matches on regular TV but didn't see much success against opponents that were higher on the card.
Kernodle returned to Jim Crockett Promotions and formed a team with Bob Orton Jr. under the management of Gary Hart. Shortly after, he began teaming with Ivan Koloff in an anti-American stable. They would soon be joined by Nikita Koloff. This means he is at least partly responsible for Nikita Koloff's rise to prominence. After losing the NWA Tag titles, the evil Russians turned on Kernodle. This began Kernodle's only major babyface run. He was in The Rock and Roll Express's corner when they won the NWA Tag Titles from the Russians at Starrcade 85.
There was a time when Kernodle hoped to reunite with Slaughter to face the Russians, as Slaughter was at the height of his GI Joe babyface run. But by the time Slaughter had left WWF, Dusty Rhodes had taken over as booker for the Crocketts.
He went into semi-retirement and made sporadic wrestling appearances for independent promotions. Over the last three decades, Kernodle had a career in law enforcement.
58:00 – Del Wilkes (1961-2021)
He was an All-American football player in college at the University of South Carolina. He appeared on the Bob Hope Christmas special with the rest of his All-American teammates.
He was trained by Moolah in the 1980s and won his first major title in 1990 as The Trooper when he and DJ Peterson defeated the Destruction Crew (Mike Enos & Wayne Bloome) for the AWA tag titles. They would hold the belts until the promotion folded in early 1991.
From there, Wilkes began what would become his most famous gimmick when he joined Global Championship Wrestling in Texas and donned a mask as The Patriot. The gimmick was taken from comics drawn by Jerry Lawler in the 70s. He won a tournament to become the inaugural GWF Television Champion. Towards the end of 1991, another masked man (Doug Gilbert) appeared claiming to be The Dark Patriot. The two feuded over the title, which saw Wilkes lose the title and leave the promotion.
Wilkes made a few appearances for the then World Wrestling Federation before going to Giant Baba's All Japan Pro Wrestling. He formed a tag team with The Eagle (Jackie Fulton) and won the tag titles and feuded with Doug Furnas and Dan Kroffat.
The Patriot saw his first national exposure when he signed with World Championship Wrestling in 1994. His WCW run consisted mainly of teaming with Buff Bagwell (then Marcus Alexander Bagwell) as Stars and Stripes. The duo briefly held the tag titles twice before quietly splitting in 1995. Wilkes quit WCW and returned to All Japan shortly thereafter.
His return to All Japan again saw him form a pair of tag teams. One with Johnny Ace and one with Kenta Kobashi. The first half of 1997 had all of them in a three-man team.
In the latter half of 1997, Wilkes returned to The WWF as The Patriot and began his highest-profile run in a feud against Bret Hart. The red, white, and blue Patriot was a natural babyface against the anti-American Hart, who had formed a new heel version of The Hart Foundation. The run was short-lived, as he suffered a torn tricep that sidelined him and he was released from WWE in early 1998. Wilkes quietly retired that year.
He was very open about his drug abuse history. He claimed to be taking 100 pills a day while working for WWE. He also admitted to a long history of cocaine use dating back to his college days. He passed away on July 1st, 2021 of a heart attack